Children
At Rye Presbyterian Church, we seek to guide and nurture children on their journey of faith, encouraging them to know and follow Christ as faithful disciples. We strive to live this mission out by providing a welcoming environment for children to engage Scripture, ask faith questions, and grow closer to God and our community of faith.
We seek to engage children in all aspects of our community of faith.
Sunday School registration 2019-2020 is now open. To register, click here.
Worship
All children are invited to participate in our worship services! At our 5pm and 10am services, our worship bulletins include a coloring page that invites children to engage with scripture through imaginative coloring and drawing. At our 10:00 a.m. service, we include a Children's Message, where our pastors help children engage scripture in a brief, age-appropriate message.
Education
We believe faith formation occurs both at home and in the church! To nurture their faith at church, we offer Sunday morning classes for ages 4 through 8th grade during our 10:00 a.m. service. To nurture their faith at home, we aim to partner with parents through our weekly Christian Education newsletter, which provides various resources that enable families to develop faith practices at home. Email Rev. Marshall here to be added to the list.
Music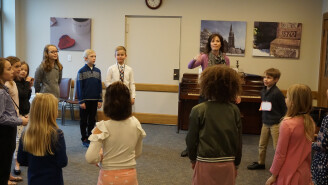 We seek to help children learn more about God's love and their faith through song! Once a month, Lisa Rawson, the Director of Choirs for Children and Youth, gathers the Sunday classes for Singing Our Faith and teaches them the many songs of our faith.
Fellowship and Mission
We provide many opportunities for children to grow closer with our community of faith. We do this through monthly Family Fellowship events and intergenerational service projects throughout the year.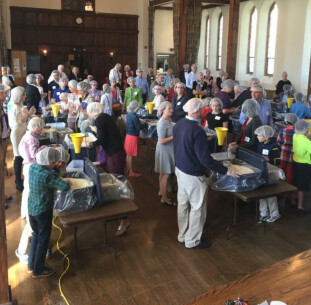 Childcare
For infants and toddlers, we offer professionally staffed childcare. Young children play in a well-supervised, spacious room filled with toys and age-appropriate activities.
Safety
In September 2016, Session approved a child and youth protection policy. The policy is tailored to reflect the children and youth programs at Rye Presbyterian Church, as well as meet common requirements across national and community youth programs. We believe that the practices adopted under this policy will help us achieve our goals of maintaining a safe and nurturing environment for our youngest members. The policy covers several key areas including supervision, qualifications and reporting. Implementation of the policy will begin this spring and will be fully implemented by the start of Sunday morning classes in September of this year. Click here for a link to the full policy.
Questions?
If you have any questions about our Sunday morning classes or would like to know more information, please contact Jean-Paul Marshall, our Associate Pastor for Christian Education at 967-0842x17 or by .