I'm New
Welcome to Rye Presbyterian church!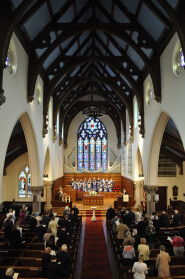 We are glad you are here! No matter where you are in your faith journey, we trust that here at RPC you will find a welcoming church home that will better connect you to God, to others, and to the world. Please join us for worship, fellowship and more. Below you will find information or links to help you get to know a little bit about us. If you have any questions, comments, or concerns, please do not hesitate to contact a staff member or one of the pastors.
Worship
Worship is at the center of our life together as God's people. During "normal times" there are three services on most weekends, each offering something slightly different.
Saturday evenings at 5 PM
Sunday morning at 8:30 in the chapel
Sunday morning at 10 AM in the sanctuary

Learn More about Worship
Where do I go on Sundays?
Click here for a map of the church and its area.

Parking on Sunday is either in the lot behind the church through the Milton Road entrance, in front of the church off Parsons Street, or across the street at the High School.
While all this is different as we cope with Covid-19, normally, you can enter the church building through the Education Wing, where childcare for the youngest children is on the first floor starting at 10AM. You can also enter from the Parsons Street side, or through the main Sanctuary doors under the steeple.
Children
At Rye Presbyterian Church, we seek to guide and nurture the many children under our care on their journey of faith, encouraging them to know and follow Christ as faithful disciples. We strive to live this mission out by providing a welcoming environment for children to engage Scripture, ask faith questions, and grow closer to God and our community of faith.
Learn more about children's ministries
Youth
The youth of RPC are not just the future of the church, but as active participants in all facets of life together, they are the church NOW!
Adult Education
RPC has always been a learning organization—providing many opportunities for spiritual and intellectual growth, as well as fellowship—as part of the mission of a number of organizations of the church.
joining RPC
All those who are interested in becoming a member of Rye Presbyterian are invited to take part in the New Member Orientation classes. The classes are held twice a year, typically in October and in late winter. In the classes, we explore what it means to be a Presbyterian in general, and what it means to actively live the faith together as a part of this particular church. In addition, for those wishing to join the church there is a meeting with the leadership of the church on a subsequent Sunday evening. This is a time to meet church leaders and for the Session to approve the new class for church membership. Public welcome and recognition of new members takes place during worship typically the following Sunday.
Anyone wishing to find out more about joining the church should contact one of the pastors or the church office at 967-0842 x11.
come visit!
As a larger church, it can be a bit challenging to find your way around. The best place to start is by worshiping with us on a weekend or dropping by for a visit.

Click here to find Rye Pres!
RPC photos