Christmas Eve Live Nativity Sign up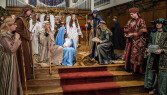 Live Nativity Services
Saturday, December 24,
3:30 pm and 5:00 pm
All high school youth and college students are invited
to participate in our Live Nativity services this Christmas Eve!
There are a number of opportunities for participation in the Live Nativity services:
being a figure in the scene,
doing one of the readings,
running the spotlight,
or ushering.
Please note that those participating as figures in the scene are not required to speak or act,
but rather to be still like the statues in a nativity scene.
There will be a brief rehearsal during the week of December 19 at a time that works best for all participants.
If interested in participating, please sign up below!
If you have any questions, please contact Rev. JP or Jason Charneski.