Youth
There are many ways to get involved with RPC Youth!

Teen Teaching Assistants
TTAs serve as volunteers in the Church School on Sunday mornings. Our teenage helpers are indispensable to the adult teachers and loved by the younger children. Community service in the Church School is very rewarding and easy—volunteers choose whichever Sundays and with whichever grades they want. Please contact Jean-Paul Marshall to be put on the schedule at 967-0842x17 or by .
High School Youth Group
Our community-service minded High School Youth Group can be found serving meals in
soup kitchens, making gifts for new members, or getting to know each other better in the church youth rooms. The HSYG meets twice a month, typically on Sundays. Hope to see you there! Contact Rev. Jean-Paul Marshall for more information.

High School Mission Trips
RPC's popular High School Mission Trip will return to New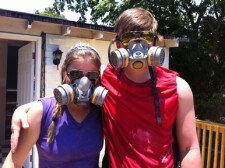 Orleans twice during the summer of 2018: June 24 – 30, and August 5 - 11.
We can't wait to return to New Orleans for the eighth year in a row and continue to make a difference in the wake of Hurricane Katrina. Click here to learn more.
Connection
Connection is RPC's Middle School Youth Group. We typically meet every 1st and 3rd Wednesday of the month from 5:30 – 6:45 in the Westminster Room. We start with a pizza dinner and then move on to games, learning, spiritual reflection, and fun! All 6th – 8th graders are welcome. Please sign up with Rev. Love or Rev. Jean-Paul Marshall.