Thrift Shop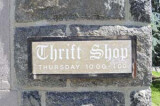 Rye Presbyterian Church Thrift Shop
!
***Thrift Shop Annual Christmas Sale - Sunday, December 2, at coffee hour following 10:00 a.m. service. Click here.
***Specialty Items at the Thrift Shop!
Click here for a gallery of some of our specialty items. They are stored in the back, so if you are interested, please note the one you want and contact a Thrift Shop volunteer on Thursday. Thank you.
***2018 Grant Awards Luncheon held on June 11. $63,000 given to local charities.
Click here for details and info on our 2018 grant recipients.
Proceeds Go to Local Nonprofits
The continued success of the Thrift Shop (staffed by volunteers) is based on our ability to constantly generate new donations which we sell and then donate the proceeds to local nonprofits. We hope that you will consider helping us increase our annual grants by donating items that you are no longer using. If you are "spring cleaning" or downsizing, please keep us in mind.
We love receiving: housewares, jewelry (real and costume), knick-knacks, artwork, toys, lamps, china, silver, crystal, children's books, and small furniture like tables, chairs. Strollers and bikes also sell very well,
Because of space constraints, we cannot accept: adult books, clothing (except new), computers, large sports equipment, and televisions. We are also unable to sell safety equipment such as car seats and bike helmets. We do not accept VCR (VHS/Betamax) tapes.
How to Donate
Bring donations to the Church, 882 Boston Post Road, and enter the door that is directly opposite and facing Rye High School. Once inside you will see a staircase and donations may be left at the bottom of the stairs in the hallway. We are happy to give you or mail you a receipt if you ask at the desk or leave a note at the desk with your name and address.
When to Donate
The Church is open on weekdays from 9am to 5pm throughout the year. Summer hours are 9am to 4pm.
Questions
We are happy to advise and help you decide what items you want to donate. In some cases, we may even be able to help with transportation. We encourage you to call Cheryl Hunt (914-921-2634) or Suzanne Davies ( ) as you are considering your donations.
Thank You Very Much
Your donations help us assist many local nonprofit organizations through our annual grants! We also encourage you to come and shop on Thursdays from 10am to 1pm!