What a Difference a Week Makes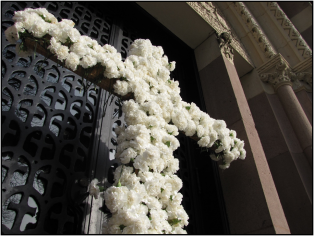 Among the many questions that are posed to the Confirmation class through-out their year of study is this: what if "Holy Week" didn't exist? What if Jesus' entry into Jerusalem amid both celebration and consternation never happened? What if there were no Last Supper, no arrest, no trial? What if there were no denial, no betrayal, no falling asleep during prayer by the disciples? What if there was no "Good Friday" – no crucifixion? No resurrection. No Easter. What if Jesus just kept on teaching and healing, and living until a ripe old age? Where would we be? Where would Christianity be?
Perhaps after his death, some of his disciples would have carried on his ministry, continuing to teach and heal as Jesus did. Perhaps there would even now be churches – gatherings of people still seeking to live as Jesus did and to minister to others as he did. But I doubt it.
Without the events of Holy Week, Christianity would be just another religion – another set of rules to follow, perhaps with rules even more challenging than ever before. "Love not just neighbor, but enemy! Be perfect as your Father in heaven is perfect!" With the bar raised that high, I suspect most would have long ago given up and moved on to simpler ways.
But the events of that Holy Week years ago change everything. Because at its core, the week, and the Christian faith, is not about what we do. It's about what God is doing.
During that week we see that even the most promising individuals fail – ones that Jesus hand-selected! They betray, they fall asleep when asked to support Jesus in prayer. And when the going gets rough, they get going – right into hiding. "Jesus? I do not know him."
Holy Week is not a story of human faithfulness. It is not a model for us of how to live our lives. Instead, it is the ultimate revelation of God's faithfulness. Here we see that the faith we share is about God's love, God's mercy, God's forgiveness and God's restorative hope – even in the face of our failure. It is the most vivid statement of who God is, and what God is doing in this world and in us.
I know. It is also a school vacation week. I long for the year that the calendar doesn't line up that way. But I encourage you – if you are here in town, come. Come to Palm Sunday to wonder at who this man Jesus is. Come on Maundy Thursday evening to gather remembering the Last Supper. Come to either of the Good Friday services – especially the 3:00 p.m. service if you have children – to experience the true meaning of that day. And then come to one of the joy-filled Easter services – sunrise at the beach; the 9:00 a.m. Flowering of the Cross family service; the 11:00 a.m. communion service. And if you aren't in town, I hear there are churches all over the country and all over the world who would be happy to welcome you, and where you can celebrate all that makes Christianity unique.
This is the Good News –
the light shines in the darkness
and the darkness can never put it out.
Hallelujah!
Dan