The Balcony is (almost) Open!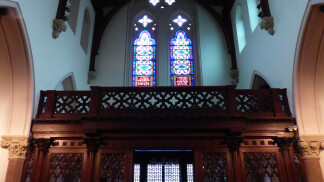 Confirmation Class has been one of my consistent joys during my ministry here at Rye Presbyterian. The beginning of the year always feels a bit chaotic, and I expect this year to be no exception. We will have close to 40 ninth-graders involved, and classes meet roughly every other week throughout the year. Coming in, the class members are all over the map, literally and theologically. In a typical year, we will have young people from seven or eight different high schools. Some have moved on to boarding schools and will do Confirmation "remotely" – studying on their own, emailing with me, and participating when they are home. Some have been a part of RPC all their lives, while others are new both to the church and to matters of faith. Some are excited and come willingly; most come under some level of parental pressure. As they move from being children in Sunday School to adults of faith, they come with questions, doubts, and a healthy skepticism about what this "God stuff" is all about. Yet deep down, I believe they are wondering about the big questions. Who am I? Why am I here? Where does God fit into all this? Or where do I fit into what God is up to? And so the year's journey begins. I love it.
Like most churches, we fret about what happens to these young people after Confirmation Sunday in May. Why aren't they in worship? Where do they go? Is it a "once and done" or did something deeper take root?
Sometimes it is hard to know.
Many of the young people go on to participate in the life of the church, but often in ways less visible than Sunday worship. They go to youth group on Sunday evenings, and to the service opportunities that Rachael will be organizing this year. Twenty-five went to New Orleans on the mission trip this summer. Many have chosen to be volunteer teen teachers in the Sunday School. But I trust that even beyond that, God remains at work. We may not see the signs of that faith beginning to grow, but I firmly believe the seeds of faith have been planted. God is faithfully at work in their minds and hearts.
Last year, as a gesture of gratitude at the end of their confirmation process, the class of 2014 chose to work and raise money to change the sanctuary balcony from a catch-all storage area to a lovely area to sit for worship. Class members sweated it out cleaning out the balcony in June and, after the sanctuary was painted, new risers were built. Soon they will be carpeted, and new chairs delivered to provide seating for 40! Just enough for each member of the class!
It is a fitting metaphor for what confirmation is all about.
We all live crowded, busy lives, cluttered with all that fills our days and minds. Confirmation, and the life of faith beyond that year, in some ways is as simple as the discipline of making space for God – clearing some room, and creating space for quiet, worship, and listening - space for God to show up, to speak to our hearts, and to inform how we are to live our days.
As last year's class continues to create space not only in the sanctuary, but in their own lives, and as the new class of 2015 begins making room, may we all join them this busy fall season. May we all make room amid the clutter, and time amid the busy schedules - time and room for reconnecting with the One who made us, the One who loves us, and the One who calls on us to be the people of God. Read on in this newsletter. There you will find many ways to clear out some space, and to grow in faith and service. And as the sanctuary balcony opens up this fall, open up the balcony of your lives to some of the many ways to connect with God and others.
A special thank you to the Confirmation Class of 2014 and their parents for their time and generosity.
Yours in faith,
Dan