ThanksLiving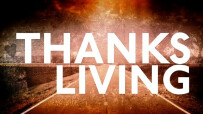 "On the way to Jerusalem Jesus was going through the region between Samaria and Galilee. As he entered a village, ten lepers approached him. Keeping their distance, they called out, saying, "Jesus, Master, have mercy on us!" When he saw them, he said to them, "Go and show yourselves to the priests." And as they went, they were made clean." And as they went, they were made clean." (Luke 17: 11-14)
There was an explorer who told how his party got trapped by a forest fire. "Through our vigil, as the fire raged on, no living thing harmed another. Men and beasts had forgotten their hostility in the face of common peril." A common peril can draw people together. The lepers were bound together by the common peril of leprosy. Yet when it is only a common peril that brings us together as a community, something's wrong. If we come together only because of a threat, then our life together is built upon something negative. Our sense of community exists because of a common need for self-preservation.
William James, in his work entitled, The Principles of Psychology, wrote about human need. Years later, he commented that he failed to include the most significant need of all – the need to be appreciated. Saying "thank you" is an action central to the well-being of human beings. It is a way of being in relationship with the giver, thereby enabling the receiver to take an active part in the transaction.
We shouldn't simply relegate this notion of thanksgiving and gratitude to a "two little magic words" children's message. We need to experience the great psychological value of actively giving thanks. Call it "thanksliving."
When we read this story from Luke, we focus on the lone leper who returns to give thanks. I didn't include that here because I want you to notice that all of the lepers are healed as they fulfill the rituals described in Leviticus. Our faith tradition, through our varied rites and rituals, prayers and acts of praise, seek to give to us ways in which we, as the receivers, may be in relationship with the God who gives us so much, ways in which we can find hope and healing.
Listening to the news, you would think that there is little to be thankful for. Yet does our faith suggest that we are to offer to God our thanksgiving only when good things have been done for us and to us? Has our faith become for us "a shelter from the stormy blast," as one old hymn proclaims? Have we made our worship of God dependent upon God's procurement of possessions for us?
Praise and thanksgiving come easy when life comes easy. One pastor notes that "Thanksgiving comes naturally to us, for we have so much to be thankful for. Thanksgiving comes easily when the freezer is full, the computers are clicking, the voting booth is open, and the missiles are at rest in their berths. Thanksgiving costs little when the benefits received are so much greater than the value invested."
Thanksgiving, our only truly religious national holiday, offers us the opportunity to give thanks and to express our feelings of love and gratitude. The scriptures invite and encourage us, in some cases even command us, to give thanks – even when the freezer is not full, even when the computers aren't working, even when the missiles fly from their berths. It is at such times as this when we discover and know the true things in life for which to be thankful.
Frederick Buechner, in his book, Wishful Thinking, suggests that even when we feel we don't have much to be thankful for, when we feel as if our prayers go unanswered, we still need to be praying. He writes: "And when…the prayer goes unanswered? Who knows? Just keep praying, … keep on beating the path to God's door, because the one thing you can be sure of is that down the path you beat with even your most half-cocked and halting prayer, the God you call upon will finally come, and even if he does not bring you the answer you want, he will bring you himself. And maybe at the secret heart of all our prayers that is what we are really praying for."
With deep gratitude for our journey together,
John