Summer Vacation?
A year ago in this very space, I confessed the joy, the sadness, and the worry that for me are a part of the days following Confirmation Sunday. A year later, I find myself in a similar space. For those of you who were not there to be a part of the day's worship, the Confirmation class did a beautiful job with all their roles – ushering, praying, name-tagging, reading scripture, serving communion. Excerpts from their statements of faith encouraged us with the way the class put their faith into words. Together they stood and made their profession of faith and their promises to seek to follow Christ in the days ahead. Together, we prayed for them, that they would find God continually present around them and within them as they continue their life and journey of faith as a part of this church. It was truly joyful.
Like last year, I am sad to lose my regular contact with the class that I came to know and greatly enjoy over the year. But different this year is the level of worry that I, along with so many others, carry for them and for all our children and young adults. Recent deaths of two Rye High School graduates add to an alarming list of young lives cut short where drugs and alcohol seem to have played a role. The community responded with great turnout to an interfaith prayer service that we were privileged to host, and further response is coming from the Rye-ACT Coalition whose well-timed survey results were presented late last month. But I still worry. We all do.
And maybe Jesus did too. He tells the parable of the sower. In it, the seed of the gospel – news of God's love and call – is scattered all over creation. Some falls on unforgiving ground and is eaten by birds. Some falls on rocky ground, and while new plants spring up, they wither when hot weather arrives. Some falls on thorny ground, and again after a good start, the other plants crowd out the young sprout of faith. Some falls on good soil and grows to bear fruit beyond measure.
Like the just emerging plants in my own gardens, what will happen to our young people? Will the root of faith have grown deep enough to sustain them as they face the challenges ahead of them? Will they be able to "say no" not only to the potentially deadly temptations that lie ahead, but to the temptation to let their lives fill to the brim and far beyond with AP's, sports, study sessions, and community service? Will it be those "good" things that crowd out the very voice of God calling them to health and meaning and divine purpose?
This summer I encourage us all as a community of faith to continue to gather for worship – one hour a week to tend to our relationship with God. The temptation to "take the summer off" is real, yet it seems counter to Jesus' encouragement to continue to nurture our faith, wherever we might be in our journey. We all need the regular nourishment of worship. We all need one another as we seek together to be a community of mutual care and encouragement, and as we tackle the challenges before us.
In a change of pace from prior years, and thanks to the generosity of the congregation in the Imagine Initiative, this summer ten o'clock worship services will continue to be in the newly air-conditioned sanctuary. During the time that the chapel is being remodeled, the early 8:30 worship service will be in the sanctuary as well. There will be plenty of space there for all of us to gather.
With all that we worry about – with all that has gone on in this community, and with all that we carry in our own lives – it does not feel like time to coast. Instead, along with the confirmation class listed below, let us renew our commitment to God and to one another. By worshipping together, let us water, fertilize and tend the faith growing within us that we too might bear fruit in abundance.
Dan
Congratulations to the Confirmation Class of 2016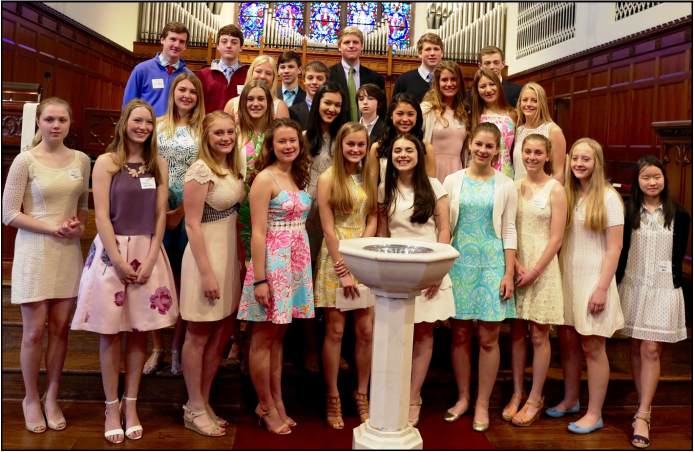 Chad Antico, son of Jessica and Craig Antico
Catherine Appleyard, daughter of Sheryl & Randy Appleyard
Eric Azer, son of Robin & Rich Azer
Sophie Barber, daughter of Cynthia & Mark Barber
Caroline Bennett, daughter of Courtney & Peter Bennett
Keegan Drew, son of Aly & Parker Drew
Laura Ferguson, daughter of Carolyn and Bill Ferguson
Beatrice Flynn, daughter of Heather Cady & Michael Flynn
Emily Frase, daughter of Laura & Jeff Frase
Emma Gallagher, daughter of Betsy & Jim Gallagher
Benjamin Johnson, son of Lisa & Kevin Johnson
Alaire Kanes, daughter of Susan & Thomas Kanes
Benjamin Kuster, son of Cindy & Jim Kuster
Isabelle Logan, daughter of Caroline & Doug Logan
Ryan Lopp, son of Ingrid Lopp
Ashley Manning, daughter of Christie & Chris Manning
Charlie Mattson, son of Laura & Jon Mattson
Delaney Park, daughter of Addy & Charles Park
Max Pollard, son of Anne & Don Pollard
Sam Poole, son of Karri & Don Poole
Anna Sellon, daughter of Allison & Mark Sellon
Hannah Simandl, daughter of Liz Dow & Craig Simandl
Charlotte Townley, daughter of Birgit & Dan Townley
Nina van Vredenburch, daughter of Eunice Han and Pieter van Vredenburch
Olivia Velta, daughter of Sherry Overholt & Lee Velta
Sabrina Vumbacco, daughter of Suzie & Scott Vumbacco
Remi White, daughter of Masako & Michael White