Singing a New Song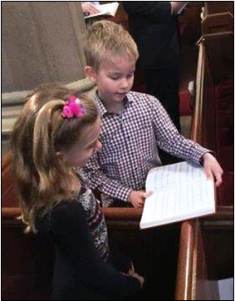 In the days after that first Easter, the lives of the disciples began to move in some very new directions. They gathered to pray and wait for the Spirit that Jesus had promised them. With the Spirit's arrival on Pentecost, humble fishermen and Galilean disciples would move out into the surrounding area to proclaim the good news of God and to gather communities of joyful faith. A new song would be sung throughout the world.
In a similar way, this month after Easter and as we move toward Pentecost in May, we look for a Spirit-filled change to occur in our own midst, and particularly in worship as Glory to God, the new Presbyterian hymnal, is introduced.
This is a long-awaited change for our church, approved by both the Worship and Music Committee and the Session, and now made possible through the Imagine Initiative and gifts made in memory of Scott Cannell. We are excited about what this will bring to our experiences in worship and beyond.
Why the change? First, while being very ecumenical in nature, the new hymnal is a Presbyterian hymnal. Hymns were chosen from the rich and broad tradition of Christian hymnody that reflect a theology that is both Reformed and Presbyterian. As the title of the new hymnal proclaims, the focus throughout worship remains firmly centered on the glory and goodness of God.
Second, while honoring and inclusive of our rich tradition, this new hymnal will bring to us a wealth of new hymns. Some will be new because of their recent writing, while some will be new because they reflect and connect us to Christian communities all around the world. Old favorites will continue to be sung even as we "sing a new song."
To help become familiar with the new hymnal and its contents (beyond its usual use in worship on Sunday mornings), we will lead a gathering following the 10:00 a.m. service on Pentecost Sunday, May 15. Together we will learn more about the new hymnal and the richness it brings our way. All are invited to come!
Our hope in this new chapter in our life together echoes that of the committee that prepared the hymnal - "that Glory to God will serve as an instrument of grace."
May what they wrote in the introduction to the hymnal be true in our midst:
This we know:
We know this hymnal will change lives.
We know this hymnal will inspire the church.
We know these songs will enliven worship in powerful ways.
We know the familiar songs will sing anew.
We know the new songs will speak truth.
This we pray: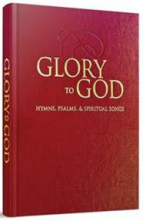 We pray that as we sing together from this hymnal, we will come to have a deeper sense of our unity in the body of Christ.
We pray that the Holy Spirit will bring surprises and breathe new life into our churches through this hymnal.
Dan, John, and Jason