September Notes
The church actually operates on three calendar years. The first is the church year which begins on the first Sunday of Advent and ends on the Feast of Christ the King. This calendar determines the flow of worship and is organized around the events of the life of Christ. In Advent we begin by looking forward to his coming, we then celebrate his birth and epiphany, and then prepare for and observe his passion, death, resurrection. In the spring we celebrate his ascension and the coming of the Holy Spirit and finally, in November, his rule over the universe. The second calendar we use is the secular calendar, January to December. On its timing, we work out budgets and elect and install our officers. The third is the program year. After a slow summer of recreation, we resume the church's basic and continuing programs in September and also start new projects. So here we are at the beginning of a new program year.
But with that said, I do note that we haven't exactly been doing nothing this summer. I invite you to look at all the work that has been done to moving the hallway between the Assembly Room and Sanctuary out of the 1950s and to look at the wonderful work that has been done around the grape arbor and driveway. All that is to be ready to serve everything that is coming up over the rest of the program year.
A matter of considerable importance this year is the election of the Pastoral Nominating Committee. As of this writing, the date for the congregational meeting is not set, but it will in all likelihood be in September. At that point, the PNC will begin its work by writing RPC's CIF (church information form) which is its resumé to attract candidates. When that is finished, they will begin the process of seeking candidates, receiving applications, and reviewing and interviewing. As they go through their work, they will provide regular updates, although once they start talking to candidates they are most likely simply to report that they are interviewing and that work is ongoing. That can sound like no progress, although when it changes they will have a candidate ready.
Much of the work of the PNC is based on the Mission Study which we finished in June. While that work is important to the selection of a new pastor, the direction it should set for the church is not going to wait until that person is in place. Throughout the process concern about spiritual development was often voiced and an interest in increasing Adult Education to help with that. Bob Steed has in this issue a description of the numerous programs that will be offered for adult education this year. I might advertise that as part of this initiative, Dan and I will each be teaching a course on Tuesday evenings. I will be doing "A Very Brief Introduction to the Old Testament" and Dan will be doing "Everything You Forgot From Confirmation Class." We fully intend to continue to have offerings in the winter and then again do a Lenten Study Series during Lent. Programs are also beginning for mothers during the day. All this is in addition to ongoing programs.
This should be an exciting year, and as the church moves in important, new positive directions, I invite all of you to make a "new year's resolution" to get involved. Do it for yourself, but do it with your family, too. So much of modern life is hurried and we are all desperately looking for quality time. It doesn't have to be by yourself. Everything you do here is part of that quality time. Your being here makes it that way for everybody else, too.
Peace,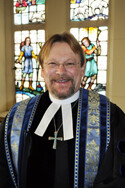 Eric