Scarcity or Abundance?
Last year we welcomed a cute little two-pound kitten into our home. Iggi has turned into a 13-pound cat with quite the personality. One of his peculiar behaviors has to do with his food. He is on free feed so the dry food is always available to him. While his bowl will often have plenty of food in it, if he can see the bottom of the bowl, he's not happy and lets us know about it. While he has an abundant supply of food, he acts as if there's a scarcity.
As we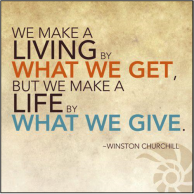 begin the season of Lent, we are again invited to take the time to reflect upon and examine our lives, our own attitudes toward life, toward others, and toward God. Watching Iggi has me asking, "Do I respond out of abundance or scarcity?" A few weeks ago, at a staff meeting, Rosemary shared a reading out of a devotional book entitled, "Simple Truths." It, too, gets at this question, and possibly our response.
The author wrote: "We build our lives around accumulation — of money, of possessions, of status — as a way of protecting ourselves and our families from the vagaries of the world. Without thinking, we begin to see giving as an economic exchange — a subtracting of something from who and what we are — and we weigh it on the scales of self-interest.
But true giving is not an economic exchange, it is a generative act. It does not subtract from what we have; it multiplies the effect we can have in the world. Many people tend to think of giving only in terms of grand gestures. They miss the simple openings of the heart that can be practiced anywhere with almost anyone.
We can say hello to someone everybody ignores. We can offer to help a neighbor. We can buy a bouquet of flowers and take it to a nursing home, or spend an extra minute talking to someone who needs our time. We can take ten dollars out of our pocket and give it to someone on the street. No praise, no hushed tones of holy generosity. Just give, smile, and walk away.
If you perform these simple acts, little by little you will start to understand the miracle of giving. You will begin to see the unprotected human heart and the honest smiles of human happiness. You will start to feel what is common among us, not what separates and differentiates us. Before long, you will discover that you have the power to create joy and happiness by your simplest gestures of caring and compassion. You will see that you have the power to unlock the goodness in other people's hearts by sharing the goodness in yours.
And, most of all, you will find the other givers. No matter where you live or where you travel, whether you speak their language or know their names, you will know them by their small acts…"
Our lectionary texts recently have been from Matthew's gospel–The Sermon on the Mount. Jesus said, "You are the light of the world. A city built on a hill cannot be hid. No one after lighting a lamp puts it under the bushel basket, but on the lampstand, and it gives light to all in the house. In the same way, let your light shine before others, so that they may see your good works and give glory to your Father in heaven." (Matthew 5:14-16)
In the midst of our abundance, will we live like Iggi, becoming anxious when we think we can see the bottom of the bowl? Or this Lenten season will we come to understand that "true giving is not an economic exchange, it is a generative act. It does not subtract from what we have; it multiplies the effect we can have in the world."
With thanksgiving,
John