Rest, Rest, Rest
"5Gracious is the Lord, and righteous; our God is merciful.
6The Lord protects the simple; when I was brought low,
God saved me.
7Return, O my soul, to your rest,
for the Lord has dealt bountifully with you."
Psalm 116: 5-7
I was fascinated when I moved back to the northeast in 2008 that the media in our area began reporting about the cicadas. I understand that they only appear in this area every so many years. Not so in Texas. Having spe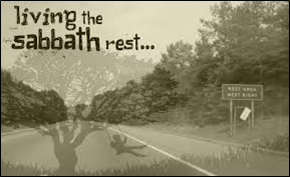 nt 23 years there I remember feeling as if summer had arrived (not always something easy to determine with Texas climate – hot), when the cicadas began their summer serenade. While summer brought with it a variety of activities, it was also simply the time to listen to the cicadas. It is a sound closely associated with all that is summer—a chorus signifying the return of stillness, an invitation to rest, rest, rest. As Christians we have a God who invites us, or even commands us to rest. Our God commands us to hold still, to cease from labor, to actively enter into repose—not merely as a means to regain our strength, but as an act of worship.
The gods of other religions and the god of self demand ceaseless toil. To please these gods, we work incessantly at the business of self-denial, approval-seeking, pilgrimage—repeated rites that strive to prove one's worth and earn the favor of the deity. Those who seek the approval of lesser gods commit themselves to a life of exhaustion.
The God who grants us soul-repose commands our worship in the form of rest. Summer is a good time to remember and to practice this form of Sabbath keeping. Summer is a time when the worship of work gives way to the worship of rest. Did you ever notice that the word rest is contained in the word restore? Will we fill these precious days with more ways to be distracted, exhausted, and pulled in a thousand directions? The evensong of the cicadas invites us to join in the worship of loving God and each other with renewed intent, with gratitude that our souls find rest in God.
Shakespeare observed that "summer's lease hath all too short a date." Before we know it, the season of work will return to claim its laborers. So I ask, will you heed the invocation of the cicadas to rest, rest, rest—knowing that our summer rest or sabbath is as vital as it is brief?
The following prayer is from our Book of Common Worship:
Everlasting God, in whom we live and move and have our being: You have made us for yourself, so that our hearts are restless until they rest in you. Give us purity of heart and strength of purpose, that no selfish passion may hinder us from knowing your will, no weakness keep us from doing it; that in your light we may see light clearly, and in your service find perfect freedom; through Jesus Christ our Lord, who lives and reigns with you and the Holy Spirit, one God, now and forever. Amen.
Rest,
John