Recapturing the Old within the New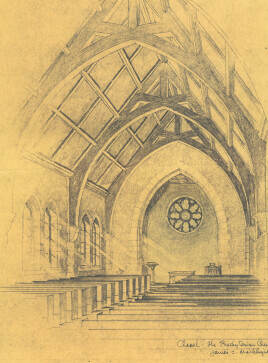 It was that great theologian, Yogi Berra, who said, "It's like déjà vu all over again." Others have said "What goes around comes around." As you know, our chapel renovations are in full swing. By the time you read this, we will hopefully be moving toward completion and awaiting the arrival of 80 new padded chairs which will allow for more comfortable and more flexible seating. Recently we discovered some of the original conceptual drawings that were done when the chapel was first being built in 1957. We were pleasantly surprised to see that the renovated chapel will look very similar to the original design; a simpler chancel with simpler chancel pieces such as the communion table, the pulpit, the lectern, and the font. Not quite knowing it, we are recapturing the old within the new.
Thanks to the Imagine Initiative, the chapel nears completion, the renovations of both manses are finished, and the Mary window in the sanctuary has been beautifully restored and is now back in its place. While it is exciting to watch all of these projects come into being, as we move toward Stewardship Commitment Sunday on November 13, we are reminded that all that we do in our church and beyond the walls of our church can only happen if the foundation is st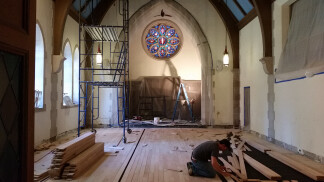 rong.
Beyond the physical improvements that have been made, other significant things are happening thanks, in part, to the Imagine Initiative. Earlier this year we had our first Coming Home program for returning citizens, which ran for eighteen weeks, from January to June, ending with the graduation of our first six participants. On Thursday, November 10, we'll host an important evening with a powerful presentation as we help to facilitate on-going conversations in our larger community about drug use. (See the announcement on the "What's Happening" page).
And most exciting, we've begun our Saturday at 5 worship service. This service has been averaging between 40-50 people (more than our 8:30 a.m. service on Sunday), including many families with children. If for some reason you cannot be in worship on Sunday morning, we invite you to join us Saturday at 5!
In a recent video Dan and I spoke to you from the dirt floor basement under the sanctuary and bell tower, reminding you of how important it is to be built on a strong foundation. But it is not only about the foundation upon which we build, but also about allowing God's Holy Spirit to be building us into the household of God, God's holy temple. The author of 1 Peter says it this way: "Come to him, a living stone, though rejected by mortals yet chosen and precious in God's sight, and like living stones, let yourselves be built into a spiritual house, to be a holy priesthood, to offer spiritual sacrifices acceptable to God through Jesus Christ… But you are a chosen race, a royal priesthood, a holy nation, God's own people, in order that you may proclaim the mighty acts of him who called you out of darkness into his marvelous light."
Faithfully yours,
John