Ready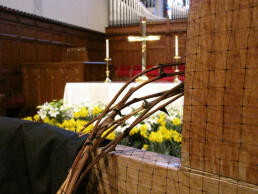 As I write this, the Lenten journey toward Easter has only just begun. But I am so ready. Perhaps not in the liturgical/spiritual sense, but I know I am ready for the absence of ice and snow – ready for some spring air and warmth – ready for the burst of flowers – ready for life to be lived with color once again.
While it is more than just a change in the season, somehow the movement from winter to spring does echo the heart of this season as Lent moves into Holy Week and finally to Easter. In our Lenten journeys we are to take a look at life and our very selves in all our complexity, our mixture of light and darkness, our mixture of what is pure and what is not. We look within and we may find ourselves and our souls very much in need of something new and good. Or it may simply be that the long winter has left us in a place where even without much looking within we know and feel our need. Grief at the loss of a loved one stays heavy on hearts, like winter. The struggles and worries about our health, family, and work leave us ready for a lift that will go beyond a change of season and weather.
We enter Holy Week and there we see in brilliant contrast the failure and weakness of humanity against the holy love of God. It is then, in that reality, that we may truly know Easter. It is then that words of hope speak like the resounding trumpets of Easter morning. It is then that we are reminded that the light of God's love can never be extinguished. It is then that we know we are not alone on this adventure, nor is our faith simply about working harder to improve ourselves. Instead, God is up to something – something beyond our plans and abilities, and something beyond life "decent and in order." Resurrection is God's present and future reality, and in that, God is making all things new.
So come! As Lent nears its end, it is not too late to step into that journey toward God. Our Lenten studies continue, and opportunities for spiritual growth and community remain plentiful. Come to all of the upcoming Holy Week worship services. Enter fully into the celebration and foreboding of Palm Sunday, the somber promise of Maundy Thursday evening, and the darkness of Good Friday. Come and see how it is that when even our best efforts fall short, it is God who comes to us – God who seeks us out in our darkness. And then, together, may we more fully experience the joy and hope of Easter morning and the promise of life lived full of color and light and song. Come!
Dan