Planning Ahead . . .
It can be a tough time of year. The Christmas cheer has worn off; the Christmas lights on the front porch (that I try to stretch until Lent) are fading away in half strands; and winter now is dragging on. Amid it all, the bright spot for me is the arrival in this season of all the piles of seed catalogs! The e-versions come, but who reads those? But then the magazines come – full of pictures of cucumb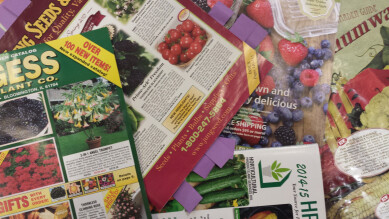 ers and flowers and apple trees – life! The hope of spring, although some long weeks away, dawns as even now the days start to lengthen and I begin to picture seeds, soil, and a summer's garden not all that far off!
As a church and as people of faith, we engage a similar task. Throughout this past year, the various committees and boards of the church have been looking through "seed catalogs" of their own – pooling together ideas and dreams for what the next five to ten years might look like here at Rye Presbyterian. December discussion groups furthered the work, and your church leadership has been hard at work prayerfully sorting through it all seeking to discern the direction God is leading us, and what seeds to invest in and plant as we move into the future. It is a great catalog, and soon we will be sharing those choices with the larger congregation as a part of a fundraising initiative.
At a personal level, the same is true. As hard as it may be to believe, in just a few short weeks Lent will be upon us. It is a time of preparation – a time to till the soil of our hearts and allow God to grow in us the fruit of the Spirit. As the Apostle Paul describes them, who couldn't use a hearty crop of love, joy, peace, patience, kindness, generosity, and self-control? It is God's business to grow these things, but throughout our lives, and especially in Lent, it is our task to put ourselves in a place to grow. The opportunities are many: Sunday morning adult education, Lenten studies, bible study groups - the list goes on. I hope you will read through this issue of Grace Notes and see all that there is. But choose we must. Just like we can't grow every seed in the catalog, we can't do all that is offered. But I encourage you to choose. Commit to worship regularly through the Lenten season. Choose a bible study or a Lenten series to join in. Do so, and God will be faithful to grow in you and in this community garden of faith something very, very good.
Yours in faith,
Dan