Pieces of the Puzzle falling into Place
At Jea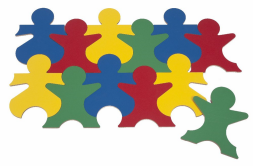 n-Paul's installation service on March 18, Elder Doug DeStaebler, who co-chaired the Associate Pastor Nominating Committee, said something that caught me off guard. While I, and others, saw the calling of JP as completing the puzzle, with us being fully staffed again, Doug suggested a different paradigm. He said that Jean-Paul and Susie's coming to Rye was actually one of the cornerstone pieces to a new puzzle, and now we'd have to all work together to help the pieces take form.
We begin a new program year in the life of the church with worship under the tent on the great lawn on Sunday, September 16, at 10:00 a.m. (Note that this is a week later this year due to the school schedule and Rosh Hashanah.) Also note that there will be no 8:30 a.m. worship that day, and that Saturday at 5 worship will begin on September 22.
There are a lot of moving pieces to the puzzle that is fall at Rye Presbyterian Church. This fall especially brings with it a variety of new and different activities or happenings. It will be Jean-Paul's first full program year with us sharing the ministry with our children and youth and their families. As a congregation we have said that these are important ministries in the life of the church. To help this piece of the puzzle fall into place, I want to encourage you to consider teaching Sunday School. If you are a parent, I invite you to make it a family priority this fall to have your children and/or youth engaged in Sunday School and/or in one of our youth programs.
There are other pieces of the puzzle falling into place as well this fall. You will be hearing more from Jason Charneski, our Director of Music, about the new Knock Internship in Sacred Music, as the new intern begins in October. As the construction on the office space and third floor comes to a close, construction will also be taking place to create an elevator shaft, and eventually, the installation of an elevator, making our building more welcoming and accessible to all. As we seek to engage the younger members among us, this fall we will introduce a "Text to Give" program, making giving to the church easier and instantaneous. And on October 21, the Mission and Outreach Committee, during coffee hour, invites you to come and learn more about our outreach ministries at our "Transforming Lives" event.
The final puzzle piece falling into place this fall is the culmination of our Imagine Initiative which began three years ago. So many of the projects and programs that we envisioned when we began the initiative have already come to fruition or are in the process of doing so. It is because of your faithfulness that this major undertaking has come together.
I look forward to seeing you as we begin a new program year together. We also look forward to welcoming Dan back from his sabbatical. I hope that you will join us in the excitement of helping to put the pieces to the puzzle in place, as "by God's power are we accomplishing far more than we can imagine!" (Ephesians 3:20.)
Yours in Christ,
John