New Beginnings
I have always been a slow reader. I struggled in school because of this. I am still a slower reader. As I reflect back on the four years that Dan and I have now served as your co-pastors, I feel as if God has invited us to be speed reading! So much has happened in such a short period of time. Co-pastors and congregation coming together to begin a new model for ministry. The $4 million Imagine Initiative and all of the fruits of that generously funded campaign, including the Coming Home program. The coming and going of staff members, both with retirements and then welcoming new staff members. It feels as if we've packed 10 years of events in the life of the congregation into the past four years. Speed reading.
And now we are set to begin another new chapter! On Sunday, November 12, we gathered for one worship service that was filled with new beginnings. We once again came forward to present our stewardship commitments for 2018. For some, it was a new beginning as they embraced the stewardship notion of pledging for the first time. It was a new beginning for the 25 new members we received that Sunday along with their many children. And it was a new beginning for us as welcomed Jean-Paul Marshall to the pulpit to preach his candidating sermon, and then voted overwhelmingly at the congregational meeting that followed to call Jean-Paul as our Associate Pastor for Christian Education. At the same meeting, we also elected 24 people to the offices of elder, deacon, and trustee, a new beginning for those who are willing to share their gifts of leadership with us.
We look forward to these new chapters with new members and new officers. And we are especially excited to begin this new chapter of ministry as we welcome Jean-Paul to our staff. Jean-Paul comes to us from the Dallas area. Yes, another Texan. Jean-Paul graduated from Austin College (Sherman, TX) in 2013 with a B.A. in Religious Studies and Music. He graduated from Austin Presbyterian Theological Seminary (Austin, TX) in May 2017. He brings extensive experience working with youth in many capacities: Youth Director/Coordinator (Bonham, TX and Austin, TX); year-long Chaplain Intern at Mo-Ranch (Presbyterian Camp in Hunt, TX); Seminary Intern at Westlake Hills Presbyterian Church (Austin, TX); and as Chaplain Intern at a Children's Hospital (Dallas, TX). Jean-Paul met Susie Fox at Austin College. They were married this past July. Susie has a B.A. with a major in Psychology and a minor in Leadership and a M.A. in Teaching. She is a Behavioral Therapist working with students with autism.
We look forwar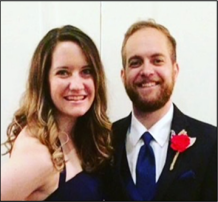 d to welcoming Susie and Jean-Paul as he begins his ministry with us on December 11.
One final note, as we are talking about all things new. Christmas Eve this year falls on a Sunday, thus we will have a new/different schedule for our services that day and evening. Details about each of the services can be found below.
"Behold, I am doing a new thing…" (Isaiah 43:19)
John