New Beginnings - Welcome Rachael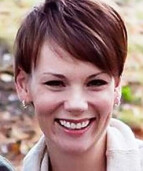 Do you remember some weeks ago when the buds began to appear, then came the first purple crocuses, followed by yellow or cream colored daffodils? Aside from a brief icy step backwards, the long winter has passed. New life is all around us! Liturgically we celebrated this as we moved through Holy Week – Palm/Passion Sunday, to Maundy Thursday, Good Friday, and then Easter! New Life!
Your co-pastors, our Session, and the Christian Education search committee are so excited to share with you the next chapter of new life blossoming here at Rye Presbyterian Church. On Sunday, April 13, the Session voted unanimously to invite Rachael Huntley to join our staff as our new Director of Christian Formation. This position, somewhat expanded and with a new title, was what Emily Foon did so well for four years. The new title is in keeping with current theories of faith development which suggest that faith is something that we help to nurture or form in people, not something about which we simply educate them. It takes into account not only head knowledge, but also the heart.
Rachael comes to us with a breadth of experience. With a degree in nuclear engineering from Texas A&M University, she worked in education for over ten years as a private and classroom tutor for junior and senior high school students. She also operated her own test-prep tutoring company in Texas. She has also worked as an actress. This May she will graduate from New York Theological Seminary with a Master of Divinity degree. For the past two years she has been on the staff of the historic Plymouth Church in Brooklyn working with children and youth, which will be her primary responsibilities on our staff.
Together with her husband Chris they have two daughters, Delilah (6) and Noelle (3). The family will be relocating to Westchester at the end of June and Rachael will begin her ministry with us in mid-July. We are thrilled about this next step and look forward to welcoming Rachael to our staff and, along with her family, to our church community.
We cannot share this good news without also acknowledging Lila Smith, who has served as our Interim Director of Children's Ministries this school year. Lila has endeared herself to the staff and to those of you who serve with her in our children's ministry. We are thankful for her service and will celebrate this at the close of the school year. She will still be with us as she and her family will continue to be a part of RPC.
Thanks be to God for continuing to do a new thing among us, and in us, and through us!
Yours in Christ,
Pastors Dan and John