Love & Foolishness Amid the Ashes
As a re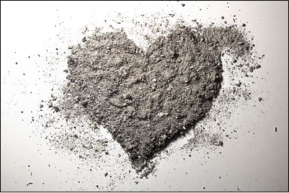 cent USA Today article suggested, Christian couples might celebrate their love this month with smudges of ash on their foreheads and a prank or two could infiltrate Easter egg hunts. This year, Ash Wednesday falls on February 14, Valentine's Day. And Easter is on April 1, also known as April Fool's Day. It's a quirky calendar coincidence that hasn't happened since 1945.
Ash Wednesday marks the start of the traditional season of Lent, a 40-day period that leads to Easter and has its roots in Jesus' 40 days in the wilderness. It is a period of reflection, prayer, and penance. Easter marks the day of Jesus' resurrection.
Yet, as Christians, we always live between two calendars. We celebrate a new year at the end of November or in the first week of December when we begin a new church liturgical year. Folks are confused when pastors insist on green paraments for the first week in July, not red, white, and blue. We set aside this holy season of Lent for solemn study and reflection, and to the rest of the world it remains six ordinary weeks between Valentine's and April Fool's Day.
How then should we observe this season? What does Lent have to do with lovers and fools? Since the answer to every question in a children's sermon is either "love" or "Jesus," maybe that one's easy. But is Lent for fools?
The Apostle Paul would suggest that it is: "The message about the cross is foolishness to those who are perishing, but to us who are being saved it is the power of God... God chose what is foolish in the world to shame the wise; God chose what is weak in the world to shame the strong..." (I Corinthians 1:18, 27)
This season and its stories set us apart, put us on a different timeline. We spend our days worshipping a God in love with weakness; following a foolish savior, even to the cross.
And so as we begin our Lenten journey on Valentine's Day, may we remember that Christ's journey from the wilderness to the cross was one of love, for you, for me, and for all the world. And as we end the Lenten journey and celebrate Easter on April Fool's Day, may we remember that what to some seemed like a foolish or idle tale, for us, as Christians, is what gives us hope and joy as we celebrate Jesus' and our resurrection to new life!
Happy Valentine's Day! Blessed Ash Wednesday! Happy April Fool's Day! And Blessed Easter!
John