Keep Calm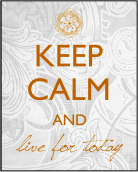 This past year, as we engaged in our Imagine Initiative, one of the questions we invited folks to reflect upon was a "defining moment" that you have had at Rye Presbyterian Church. I was struck that for more than a few that moment had something to do with worship, especially during the Christmas season. A child's involvement in the Christmas pageant. A candlelight Christmas Eve service. That season has now come and gone. These are now but cherished memories.
In the year before us, we look forward to the things that we only imagined in our initiative last year beginning to take shape. A new prison ministry with returning citizens (formerly incarcerated) called "Coming Home." Manse kitchens being remodeled. Fuller funding for the third pastor on our staff doing ministry with children and youth. These are things we look forward to in the New Year.
In the church calendar, following Epiphany, we move into a brief period known as "ordinary time" prior to the start of Lent – days that are not filled with the special or spectacular. We would do well to welcome these days—not only remembering the past, or looking forward to the future, but living in the "today."
Frederick Buechner defines "today" this way: "It is a moment of light surrounded on all sides by darkness and oblivion. In the entire history of the universe, let along in your own history, there has never been another just like it and there will never be another just like it again. It is the point to which all your yesterdays have been leading since the hour of your birth. It is the point from which all your tomorrows will proceed until the hour of your death. If you were aware of how precious it is, you could hardly live through it. Unless you are aware of how precious it is, you can hardly be said to be living at all.
"This is the day which the Lord has made," says the 118th Psalm. "Let us rejoice and be glad in it." Or weep and be sad in it for that matter. The point is to see it for what it is because it will be gone before you know it. If you waste it, it is your life that you're wasting. If you look the other way, it may be the moment you've been waiting for always that you're missing.
All other days have either disappeared into darkness and oblivion or not yet emerged from it. Today is the only day there is." (Whistling in the Dark, pp. 105-6.)
While we are thankful for memories past and are excited about what the future will bring, as we move into the New Year may we be attentive to "today" and be thankful for God's gift of each new day in this New Year.
Peace,
John