Imagine there's no scoreboard...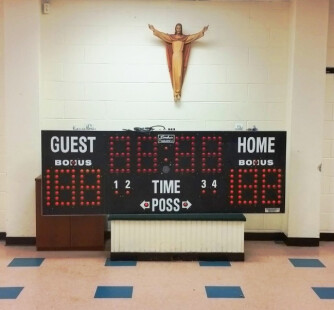 You can feel it in the air! There is enthusiasm - there is excitement! The Imagine Initiative in all its many facets is rolling out for all to see. Imagine! Beyond all the good that goes on here each day, imagine what our church can be! An additional worship opportunity. Fully funding our third pastor to better serve the many children and youth of this church. The stained-glass windows of the sanctuary restored to their original brilliance to match the beautiful new paint job. New opportunities to gather and grow and serve together. Imagine what God can do – in and through and beyond our dreams!
Something else can be felt in the air as well. After all, for the dreams to become reality means we have to talk about topics that many wish we would avoid: generosity, money, giving to Imagine above and beyond what we already give for the annual stewardship campaign. At times it can get a little uncomfortable. Yet we follow and bear the name of one who never shied away from talking about such things. "Where your treasure is, there your heart is also," Jesus said. It may not be the "root of all evil" (a common bible misquote), but he knew that how we view our resources and the decisions we make regarding those resources says a great deal about who we are and the state of our hearts. It can, and probably at times should make us a bit uncomfortable.
But often, I think our discomfort comes from a misguided sense of what God is looking at and asking for from us. The scene I found in a nearby church basement captured that sense of it for me - Jesus as keeper of the scoreboard. Perhaps we operate with a sense that God is more interested in keeping score of who among us is the most faithful and most generous. We think that a big gift to Imagine means that someone is more faithful, more spiritual, more what Jesus is looking for. We get nervous when we hear of someone giving more. We look down upon those who give less.
That's not the Jesus I see. Instead, Jesus showed us a God who doesn't keep track of rights and wrongs, or the size of our monetary gifts. Instead he showed us a God of great generosity – a God of grace who welcomes us as we are – who forgives again and again, who loves beyond measure. The divine scoreboard long ago was disconnected and shut off. It is we, in our misguided worry about whether we measure up and our endless competitive and comparative instinct, who drag it out of the basement and turn it back on again.
Instead, Jesus invites us…and, yes, challenges us. Forgiven much, richly blessed, gifted in so many ways, how might we live a more faithful and generous life? How might we more fully participate in God's vision and God's active work making this world more just, more loving, and more whole? How might we trust God even more than we do, to be at work in us and through us?
Imagine that . . .
This month, as pledge cards for both Imagine and Annual Stewardship arrive at your home, as you think and pray and talk about what numbers to write down, and as we commit ourselves and our resources to the future in worship on October 18, imagine the scoreboard off. Imagine instead the next step that God is calling you to take, not just in your giving, but in your life and faith.
Imagine . . .
Dan