Hopes and Fears
The energy in the room was palpable! On a Saturday this past month, the officers of the church – deacons, elders, and trustees – all gathered for our annual retreat. A meal was shared, followed by a little enlightening fun getting to know each other in the Assembly Room. Who knew that 1/6th of our officers were raised Roman Catholic, or that several more than just your three pastors have actually read the entire bible!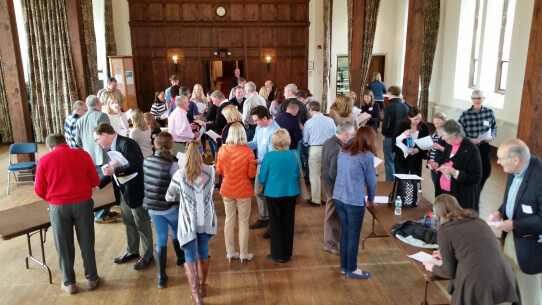 The energy (and laughter) continued as we shared our joys at RPC for 2015. We covered four sheets of newsprint with them, but here are the highlights:
Rachael Huntley's ordination as our third pastor
Jason Charneski's arrival as our new Director of Music
The gatherings, fellowship and conversation around the Imagine Initiative
Imagine pledges made (we are just a pledge or two away from $4 million!) to move the church into the future, but more importantly, the excitement and engagement taken to a new level.
A first Men's Night gathering and a first Family Retreat
The Youth Mission trip to New Orleans
No leaks in the buildings (yes, this is a joy – especially for trustees!)
With much to celebrate, and much for which to give thanks, we then looked to the future and the year we now begin. As realistic, thoughtful, and sometimes prone-to-worry people, we named together the fears that we quietly carry for our church – listening for a time to that voice that says "Things are good now, but when will the next challenge come our way?" Our fears, to name a few:
Loss of energy, momentum, and connection from Imagine
Pledge money won't come in (for stewardship and Imagine)
Over-commitment to other activities besides church
Larger economic deterioration affecting RPC
Most will let the few do the work
Youth involvement stagnates and declines
Loss of focus on God
Discouragement in the face of challenges
Finally, together we turned our focus to our hopes and our dreams – our prayers for what might come to pass in 2016 here in this church:
Continued energy, momentum, engagement, and growth
High school youth program deepened and strengthened
Execution and implementation of Imagine plans
-Successful launch of a third worship service
-Coming Home program fulfilling for all
More and new people involved in RPC
It is one thing to celebrate the past. It's one thing to name the fears that nag at us. It's one thing to speak our hopes for the future. But in the context of the church, it is an entirely different thing to name them before God - especially a God who makes promises, and who says to us: "I will be with you – in joyous times and in valleys of dark shadow." No matter what comes our way, Gods says, "This is my church. I have long been at work here – in good times and in difficult times - and I am not done here. I will see you through."
To close our time together, we gathered in the sanctuary where we heard the promises of God from scripture read out loud as we laid our hopes and our fears on the communion table – entrusting them to God's good care. Together we sang that powerful line tucked in the middle of the carol "O Little Town of Bethlehem" – that the "hopes and fears of all the years are met in Thee tonight."
Indeed may it be so – for you, and for us as a community of God's people.
Dan