Greening of the Church - x2!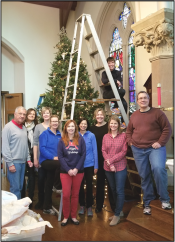 Every year, early in December a group of dedicated church members gathers together to transform our entire church as they decorate it for the Advent and Christmas season. Several Christmas trees grace the building, and wreaths mark every entrance and doorway. It is a visual and olfactory transformation!
The idea of "greening" the church and our homes with trees and wreaths is an ancient tradition with solidly non-Christian roots. Long before it became a Christian symbol, people would use greenery and small evergreen trees in and around their homes as signs of hope during the darkest days of winter – signs that eventually the green of spring would come again!
It isn't surprising then that Christians would incorporate such symbols into their own Christmas celebrations as they welcomed the "Light of the World" amid winter's darkness. Symbolizing the eternal and unchanging love of God made visible in the birth of the Messiah, the greenery points us all ahead not simply to another spring, but to the fullness of God's kingdom becoming a reality in our midst and throughout the world.
A very heartfelt thank you to Kristin Jautz and the crew of "greeners" whose work points us ahead with hope!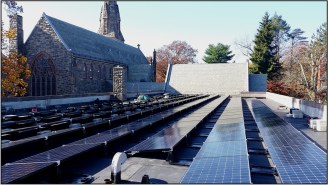 This year, however, there is an exciting second level of meaning to the "greening" of Rye Presbyterian. Through the faithful and diligent work of the church trustees, we will be doubly "green" this month. In November, 183 solar panels were installed on the roof of the education wing, and as soon as ConEd does their work, they will come on line. In doing so, they will vastly decrease our dependence on non-renewable sources of electricity, as well as reduce our carbon footprint.
We will be green inside and out, and doing one more thing to make the world a better place!
Friends, have a blessed Advent season and a joyous Christmas. Enjoy the greenery, and being a bit greener as a church, and may your lives be filled with the hope that is at the heart of this season.
Dan