Epiphany
If you have looked ahead at your 2017 calendar very far, you may have noticed that Easter falls relatively late this year – April 16! With that, it means that Lent doesn't start until Ash Wednesday on March 1, and that the season of Epiphany goes on for nearly all of January and February! In this season, we celebrate Jesus coming as the Light of the World – a sign of hope amid the dark days of winter that the light of God now begins to grow and illumine all of creation. As a part of that theme, you'll see in worship this season as we work through the Sermon on the Mount that the light grows because Jesus calls us all to be a part of that growing light. It is in and through us, by the power of the Spirit, that the world is blessed and enlightened.
This month marks a time of transition once again in the life of this church. By the time you read this we will have said our goodbyes to Rachael Huntley, thanking her for her ministry among us and particularly with our children and youth. God has worked in and through her gifts to be a blessing to us all. This month, we will also begin to look to the future as we elect an Associate Pastor Nominating Committee – a search committee to work on discerning the person God is now calling to join in ministry here in this place. Please join in praying for that committee and for the pastor out there somewhere to whom God will show up and call to join us.
In the meantime, John and I will be working to cover our youth ministries. I will be continuing to work with the middle school youth and will lead the June youth mission trip to New Orleans again this summer. John and Heather Miller are teaming up to lead our high school youth ministry, and an additional NOLA trip in August.
As well, God has already s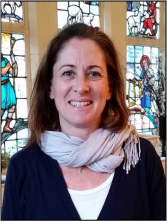 hown up in our midst by guiding us to two other people who will play a part on our staff team in the coming months. Nancy Lavelle, who has been working in the church office on a part-time basis, will be stepping up to serve as our Interim Director of Children's Ministries. Nancy was born and raised in Rye and is a graduate of Rye High School. She has a BA in Psychology and Elementary Education at the College of New Rochelle. In addition to being a teacher's aide at Milton School, she has worked at Rye Country Day School as a Teaching Assistant. While working at RCDS, Nancy got her Masters in Teaching at Manhattanville College.
Nancy has been married for 20 years and has five children. She has volunteered in the College and Career Office at Rye High School, and taught Religion at Resurrection Church. Nancy has been re-entering the work force over the past few years by subbing at Rye Presbyterian Nursery School and at Little Learners in Rye.
Joining Nancy and coordinating all the activity on Sunday morning, we ar
e pleased that Yvonne Zuk is returning to work on our education staff team as the Sunday School Supervisor. Yvonne grew up on the Sound Shore and has been a church member since 1992. She taught Sunday School at RPC for several years before becoming an administrative assistant to the RPC Christian Education Director from 2005-2012. During that time she was also a teacher at Rye Playschool, a childcare-based program housed in the educational wing at RPC. She took on the full-time position of Director of the Playschool in 2012. Yvonne currently lives in Port Chester with her husband Peter and has three grown children Emery, Wyatt, and Clayton.
In Epiphany, and beyond, God is faithful. God shows up. How pleased we are that God has chosen to do so in Nancy and Yvonne. Please join me in welcoming them to our work together as lights in the world!