Come. Fill Your Cup!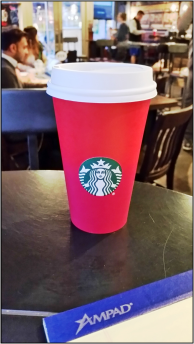 I admit it. I love my Starbucks. Yes, I wish they had more places to sit to work on sermons and study, and I know I could be getting my caffeine much more efficiently elsewhere. But still… I love my Starbucks.
And until I saw the furor on social media, I had totally missed the idea that Starbucks was tagged as another guilty party in the "war on Christmas."
What did they do? Their "Christmas cup" came out in plain old red. No snowflakes, no reindeer, no Jesus.
Maybe I missed that too. Was there ever a Jesus on a Starbucks cup?
As we begin Advent and the long but harried journey to Christmas, and now in the wake of the horrific events in Paris, it seems to me we've got some bigger issues to worry about than what is on the cup at Starbucks. And I hope that we all aren't looking just to the snowmen and ice skates on Starbucks' disposable cups for "holiday spirit," let alone for either theology or the grounding of our faith and lives.
It is interesting to note that while silent on many issues, Jesus does in fact talk about cups. Our lives are like cups, he says. And too often we worry and wash and tend to the outside of the cup. But what is on the inside? What is the state of our hearts? Our faith? Our lives? Our relationships with God and with one another? Are we all dressed up and decorated with seasonally appropriate snowflakes and ornaments? Or are we filled with the love and grace of the One who comes to us again in this season offering to fill us up to the brim and more?
This month, this Christmas, skip the Starbucks – or at least get it to-go – and come here to the church for a solid jolt of Christmas Spirit. It's all here in this newsletter: Advent worship and reflection; Tree Lighting on the lawn; Cantata Sunday; Christmas Pageant, the Live Nativity; Christmas Eve. Come! Take the time to pause and prepare not only homes and gifts, but hearts. Come, so that new life might draw near, and that the Prince of Peace might be born in us and in this world once again.
Come. Fill your cup!
Dan