Clearing the View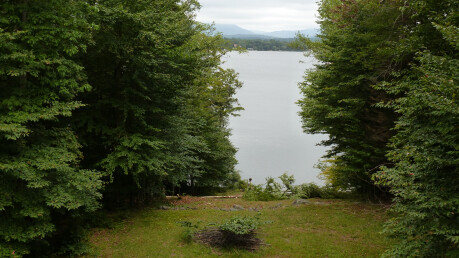 During the last three weeks of my sabbatical, we were able to spend time in the Adirondacks at our family cottage. There were cookouts and celebrations, time on the beach, reading, kayaking, as well as a fairly substantial "to-do" list to tackle. Among the many tasks was the regular effort to "clear the view."
When the cottage was built over 100 years ago, most of what is now forest was farmland and pasture. But it doesn't take long for the trees to return and for the view of the lake to be crowded out, if not completely obliterated. Over the years, the family has worked to keep a swath of open land from the cottage to the water, through which the lake can be seen. But each year the trees move in. To keep new trees from heading skyward, the open area has to be mowed annually. Where the trees on the sides reach out into the open sunlight, they need to be cut back or cut down to keep some semblance of a view.
In so many ways, it was the perfect metaphor for my sabbatical time. The last three months have been a wonderful gift from you all and from the Lilly Foundation grant – and an amazing time to clear my desk, clear my mind, and "clear the view" spiritually. There was time for study, for retreats, for reading and reflection, as well as solid time with friends and family. What a gift it was!
Yet sitting at my desk here in my first few days back, my question is this. Was it just a break – a temporary pause to refresh before diving back in to life and church and all that entails? Or is there a new way to view life and ministry here together?
First and foremost, I return even more grateful for this church and the privilege of being here among you all. In addition to reading and study and reflection, we were able to visit several other churches for Sunday worship. It made me even more glad for all that we have – an amazing gathering of interesting and talented people wrestling with what it means to be faithful; a devoted staff team that I am privileged to serve with; a gorgeous building that inspires a sense of God's presence; and worship that is done very, very well.
And yet so quickly our lives can fill to the brim and beyond. Life and work and play and family and volunteering– all good things – can so quickly fill up "the view" and our ability to pause, breathe, and simply enjoy life and the presence of God's goodness throughout our lives.
As at the lake, clearing the view is an ongoing task. And I, for one, need to continue to simply stop. To take a "Sabbath" amid a busy week. To make time for the practices of my sabbatical – reading, exercise, intentional time with others, centering prayer (a form of meditation), and quiet.
As a church, this month we will begin two similar "practices" that I hope will help to "clear our view" and deepen our connection to God amid busy lives. Once a month, starting on Saturday, October 20, the Saturday service will be a "contemplative" service. Similar in length, though differing in format, this service will incorporate music, quiet centering prayer, and the ancient practice of lectio divina, where instead of a sermon, together we will listen for the voice of God speaking to us through scripture. (For e-version – Click here to learn more about Centering Prayer, and here to learn about lectio divina.)
In addition, this month we will kick off our "Show up & Make" event. Another fruit of our Imagine Initiative, following all three services on the weekend of October 27 and 28 this event will offer the chance to reflect on the themes of worship using art. No artistic skill is necessary, but all ages are invited to be a part of engaging not simply our minds in our spiritual lives, but our full selves – body, mind, and spirit. Come, show up, & make!
In an age where "mindfulness" is all the rage, these two events blend mindfulness with a Christian spiritual focus – anchoring us deep to the loving presence of God in our daily lives.
It is good to be back among you, and I look forward to sharing more with you about the learnings of my sabbatical, and joining you as together we find ways to "clear the view."
In faith,
Dan