All Things New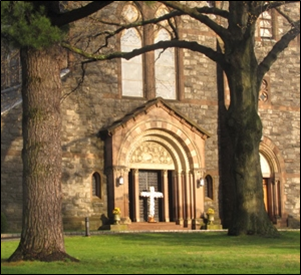 Of all the traditions that make Rye Presbyterian Church what it is, I find I've grown fond of the large oak cross that years ago became a part of our Holy Week and Easter services. Hand-built by one of our very own members (now there is a Lenten discipline!), it began its service at the 9:00 a.m. Easter service, as the cross that we "flower." Sometime later, it became the focal point of the Good Friday Family Service, where the children learn about it up close, then carry it from "the trial" and set it up in the narthex. There it is draped in purple cloth and a crown of thorns is set upon it as we talk about Jesus' death. After visiting "the tomb" in the basement, at the end of that service we gather before it, now draped in solid black. It stands there in the front of the sanctuary until Easter morning when at the Family Service, one by one, people of all ages put a white carnation onto its bare wood. Before our eyes, "resurrection" happens. Out of darkness, hope; out of ugly brutality, beauty; and out of death, new life! For several days, that flowered cross stands on the front step of the sanctuary as a beacon of hope to all who pass by.
After a few days, the wilted carnations are removed and the cross is tucked into storage for another year. Yet it is more than a reminder of the "circle of life." It is more than a very welcome sign that winter is over and spring is dawning. As a sign of Jesus' resurrection it speaks of deep and lasting truths. It speaks of the faithfulness of God that outlasts the worst that the world can deal out. It speaks of a forgiveness that can truly change us and this world. It speaks of love – a deep, abiding, sacrificial love – that alone can "bend the world toward wholeness."
"Behold, I am making all things new," God says in and through that wooden cross – not just for a few days, a season, or another year, but for all time. This Easter season, may we be pulled in and upward in the newness of God. May that cross be more than a brief sign of hope spotted from afar as you drive by the church after Easter.
You are invited to enter fully into the drama of our upcoming Holy Week worship services. Join the celebration and foreboding of Palm Sunday, the holy promise of Maundy Thursday evening, and the darkness of Good Friday. Come and see that beyond all our best (and worst) efforts, it is God who still comes to us making all things new. And then together on Easter morning may we know the truth of the words from the Easter hymn by John Bell and Graham Maule:
Christ is risen while earth slumbers; Christ has risen where hope died,
as he said and as he promised, as we doubted and denied.
Let the moon embrace the blessing; let the sun sustain the cheer;
Let the world confirm the rumor: Christ is risen, God is here!
Dan