A Tale of Two Trees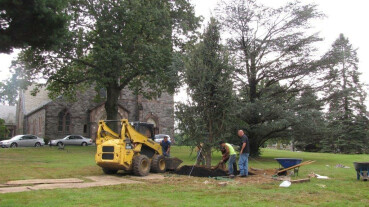 By now you may have noticed the new "Christmas Tree" that has been planted on the lawn in front of the sanctuary. The tree that has been lit in recent years was damaged by a storm this past year. The decision was made to plant another tree which was generously donated by the 2013 confirmation class and parents. Both trees will be lit this Christmas.
It is perhaps a fitting symbol of the new beginnings at Rye Presbyterian Church. As we begin our ministry together as your co-pastors, there is an acknowledgement and gratitude for the familiar form of pastoral ministry here in years past – the old tree. But something new and different has now been planted, both by our interest and desire to serve as your co-pastors, certainly by your unanimous vote to call us as such, and most especially by the work and movement of God's Spirit in the midst of it all.
But we want you to take note of a couple of things. First, please know that Juan, the church sexton, has been watering the new tree daily. While it is no small sapling, it nevertheless needs special care because it is new to the front lawn. It is still getting used to the soil in which it has been planted, and it will take some time for its roots to grow into the surrounding soil. So too with our pastoral relationships, both with one another, and with you. It's all new. We need to treat this new gift of God with special care and nurture as it takes root in all of our lives. Second, you will note that there are some guy-wires attached to the new tree. They are there to give the tree strength and stability as it takes root and to be sure that its growth is straight (and heavenward) rather than listing to one side or another. So, too, we will be seeking guidance from one another, from a professional coach, from elders, deacons, and other leaders within the congregation, and most importantly, from God, as we seek to grow into this new way of being together.
As with the tree, this all will take some time. As we settle in to new places and roles, as we put down new roots, and as we look to the future together, we ask for your prayers, your patience, and your partnership. It will take some time for us to get our bearings and get to know all that makes RPC what it is. It will take time and good communication to sort out the various dimensions of the pastoral role here and how we will share the tasks and responsibilities as co-pastors. Like the tree, we have a vision for what it will look like, but all of this is a work in progress!
We are very excited as we begin this new chapter together as co-pastors, and together as pastors and congregation. We are grateful for the diligent work of the PNC and the transitional committee, and to all who have so warmly welcomed this new chapter. While there are many ways that you join us as partners in ministry together, in this season we thank you in advance for pledging so generously to this year's stewardship campaign. Letters and pledge cards should have arrived in the mail this week, and we hope you will prayerfully consider generously stepping with us into this new chapter of ministry at RPC, so that together, we may enter into the joy of this new thing that God is doing in our midst. (Isaiah 43: 19)
Dan & John