A Season of Gratitude. A Season of Thanks.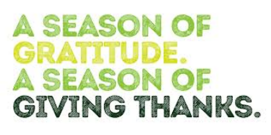 The Apostle Paul writes to the Colossians these words: "14Above all, clothe yourselves with love, which binds everything together in perfect harmony. 15And let the peace of Christ rule in your hearts, to which indeed you were called in the one body. And be thankful. 16Let the word of Christ dwell in you richly; teach and admonish one another in all wisdom; and with gratitude in your hearts sing psalms, hymns, and spiritual songs to God. 17And whatever you do, in word or deed, do everything in the name of the Lord Jesus, giving thanks to God the Father through him." - Colossians 3:14-17
November is a season to give thanks. And there are many good reasons for this season of gratitude. It was five years ago, on November 1, when we began a journey together as co-pastors and congregation. We began with high hopes and expectations. I believe that God has used us, pastors and congregation alike, and has used this unique way of doing ministry together, blessing us so that we might live to be a blessing in the lives of others and in our community. And so, I am thankful for Dan and all of my staff colleagues, for the strong leadership offered by our officers, and for the faithful commitment of our congregation.
I am thankful for all that God has accomplished, working through us and our Imagine Initiative, which is now drawing to a close. You know the good things that we have been able to do through this initiative – substantial building repairs and improvements, but also some significant mission initiatives as well, such as adding a second youth mission trip, starting the Coming Home program for the formerly incarcerated, and adding another Rise Against Hunger event, to name just a few. We also were able to call our associate pastor and provide for housing for this position.
As I wrote in the cover article for the September Grace Notes, the pieces of the puzzle that is Rye Presbyterian Church are creatively coming together to form an image of who and what our church is today and for the future. We are again at a key moment in our life together, as ministries and programs that were begun using funding from the Imagine Initiative are now being integrated into the planned budget for 2019.
This year the Stewardship Committee is asking you to prayerfully consider what part you will play in this year of financial transition. Each one of us is a piece of the puzzle, and without all of the pieces, the puzzle remains incomplete. Ephesians 4.16 - "Under his direction, the whole body is fitted together perfectly as each part does its own special work, it helps the other parts grow, so the whole body is healthy and growing and full of love."
To those of you who have been faithful in your giving both through your annual pledge and to the Imagine Initiative, thank you! To those who continue to pledge, thank you! To those who give, but do not pledge, thank you! We invite you to join us in this spiritual discipline of pledging so that our church leaders will have a better indication of the financial resources that will be available in the year to come. To those who do not give, I invite you to consider how important your piece of the puzzle is to Rye Presbyterian Church.
As we seek to be faithful to commitments that we began through the Imagine Initiative and now will be assuming in our regular annual budget, the Stewardship Committee asks that you prayerfully consider pledging at a higher amount. You'll be receiving letters and pledge cards in the mail. Stewardship Commitment Sunday is November 18, and all pledges received by December 3 will be gratefully acknowledged by name in the December 9 worship bulletin (Cantata Sunday).
Please know, my friends, how thankful I am for this congregation, for our ministry together, and for that which God is yet to do in us and through us.
John