Baby Box Project & Upcoming Events
Make a difference in May with Open Door Medical Centers
It's hard to believe that in the wealthiest country on earth, there are parents who wonder how they are going to feed, house and care for their children. Open Door Family Medical Center is our community's health home for these people.
Please join the congregations of Rye Presbyterian Church and Community Synagogue of Rye as we continue month-long program to support new moms giving their babies a healthy and safe start in life.
The Collection: Join us May 7 through June 2 collecting items to make Baby Boxes for the moms and their babies. What's a Baby Box? It's a remarkably designed cardboard box filled with newborn basics that include a waterproof mattress and cotton sheet so the box can be used as the baby's first bed or bassinet. There are Baby Boxes on display in the Chapel Foyer, the hall outside the first floor Welcome Office and in the RPNS entrance way. Please click here to see a YouTube video for an amazing overview of the project.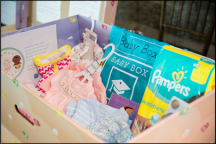 There are many things a newborn may need and Open Door has registered at Buy, Buy, Baby just for us! Please click on this link to see the registry: 545756455 or simply type in Open Door. CVS has their own brand Health Flexible Tip 3-in-1 Digital Thermometer that Open Door Doctors want all new moms to have, and Arcade Books has partnered with us again this year to have bilingual board books available as well.
Please feel free to leave donated items in each of the empty Baby Boxes in the three designated sites any time during the drive.
The Celebration: Please note: The Celebration event originally scheduled for Saturday,

June 2, was postponed. Future date to be advised. We hope you will join us for one or both of the following events:
Baby Box Distribution Day: Tuesday, June 19 at Open Door, 5 Grace Church St., Port Chester. The times are: 11:45 a.m.-1:45 p.m; 1:45-3:45 p.m.; and 4:45-6:45 p.m. Volunteers will help with room set up, registering moms-to-be on a website, and even helping some create an email account, helping with the website responses at the end of the workshop, and carrying the Baby Boxes to taxis. Youth high school age and older are welcome to sign up. 2-3 volunteers requested per shift.
Tour of Port Chester Open Door, 5 Grace Church St.: Open Door is happy to provide tours on June 19 at 11:00 a.m. or 4:00 p.m. If you would like a tour on another day, please contact Nancy Levin (click ).
To sign up for one or all of the three events that we have scheduled, click here.