New at RPC?
Welcome!
Whether you are just exploring what it means to be a part of a church, whether you have been active at another church, or whether you have been a life-long Presbyterian, welcome to Rye Presbyterian! We are a church of over 1000 members who come from all walks of life and faith, but who have committed to growing together in our faith in God and in our service to others.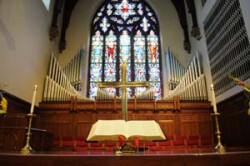 As a larger church, it can be a bit challenging to find your way around. The best place to start is by worshipping with us on a Sunday morning. Our Sunday schedule can be found here.
Please feel free as well to contact either our church office, or one of our pastors. Any of our staff members would be happy to help orient you and to answer any questions you might have.
Peggy Berretta, Administrative Assistant
Dr. John Miller, Co-Pastor
Rev. Daniel Love, Co-Pastor
Questions about helping your children feel at home at RPC? Jean-Paul Marshall, our Associate Pastor for Christian Education would be pleased to talk with you further.
Becoming a member of RPC
All those who are interested in becoming a member of the Rye Presbyterian Church are invited to take part in the New Member Orientation classes. The classes are held twice a year, typically in October and in late winter. Childcare is available if needed. In the classes, we explore what it means to be a Presbyterian in general, and what it means to actively live the faith together as a part of this particular church. In addition, for those wishing to join the church there is a dessert meeting with the leadership of the church on a subsequent Sunday evening. This is a time to meet the officers and leaders of the church and for the Session to meet briefly to approve the new class for church membership. Public welcome and recognition of new members takes place during worship typically the following Sunday.
Anyone wishing to find out more about joining the church should contact one of the pastors or the church office at 967-0842x11.