Got Kids?
As our mission statement emphasizes,
"Rye Presbyterian Church lives its vision by actively engaging in worship and outreach activities, supporting the journey of faith of young and old.."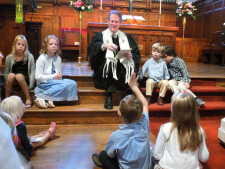 We love families here at RPC! Throughout the year and in a variety of ways, RPC is a place where children are welcomed and encouraged in their own journeys of faith.
There are plenty of ways to get your family involved here at the church: Church School,
Family Fellowship, Middle School and High School Youth Groups, the Youth Mission Trip and much more. We hope to see you soon. For more information, check out the following programs or contact Jean-Paul Marshall, our Associate Pastor for Christian Education.