Sunday School
2018-2019 Registration is now open - click here

Jesus said, "Let the little children come to me, and do not stop them; for it is to such as these that the kingdom of heaven belongs." Matthew 19:14

Welcome to Christian Education at Rye PC! We believe that children are integral to the life of the church, and strive to make Sunday School a warm, welcoming, and fun environment where every child feels safe to explore their faith. Throughout the year, you might find
Sunday School classes engaging in community service, creating arts and crafts, planting flowers, baking in the kitchen, or acting out Bible stories. Our Christian Education program serves to foster the love of God and neighbor in our young people.
Our Curriculum
Our story-based curriculum focuses on Old Testament stories from September to November, and then switches to New Testament stories from December through June. Our curriculum emphasizes hands-on learning: RPC children experience their faith through games, arts and crafts, play-acting, and more.
For the latest news on Sunday school, click here.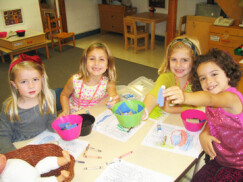 A Typical Sunday
Our year in church school begins the Sunday after Labor Day and runs until the second Sunday in June. On most Sundays, children stay in the 10:00 service through the Children's Message at roughly 10:15 and then are invited to their classrooms. Children ages threes through eighth grade meet for approximately forty minutes.
Family Fellowship
Church School Family Fellowship events are typically held once a month and provide families with the opportunity to socialize and spend time together as a family of faith.
Children's Chapel
Once a month, children in grades kindergarten through sixth are invited to a Children's Chapel service. We celebrate special times in the church year such as All Saint's Day or Lent.
Singing Our Faith
Once a month, Lisa Rawson, the Director of Choirs for Children and Youth, gathers the Sunday School classes into age appropriate clusters to sing music that appeals to their age groups. This program helps our children internalize the fundamentals of a Christian life by learning their faith through song.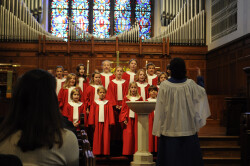 Enrichment Sundays
Four times a year, typically on holiday weekends, we gather for Enrichment Sundays. The focus of these Sundays is on community service and world mission awareness. Children participate in community service projects, like making blankets for Project Linus or putting together busy bags for hospital waiting rooms.
Childcare
For infants and toddlers, we offer professionally staffed childcare. Young children play in a well-supervised, spacious room filled with toys and age-appropriate activities.
Child and Youth Protection Policty
In September 2016, Session approved a child and youth protection policy. The policy is tailored to reflect the children and youth programs at Rye Presbyterian Church, as well as meet common requirements across national and community youth programs. We believe that the practices adopted under this policy will help us achieve our goals of maintaining a safe and nurturing environment for our youngest members. The policy covers several key areas including supervision, qualifications and reporting. Implementation of the policy will begin this spring and will be fully implemented by the start of Sunday school in September of this year. Click here for a link to the full policy.
For more information:
If you have any questions about our Church School or would like to know more, please contact Jean-Paul Marshall, our Associate Pastor for Christian Education at 967-0842x17 or by .